Product Description
free shipping!1000w 24v grid tie micro inverter, dc20v~40v, ac90v-140v or 190v-260v for 1200w 24v solar panel and wind power !
Promotion!!!! FREE Shipping!!1000W 24V Grid tie micro inverter, DC20V~40V, AC90V-140V or 190V-260V for 1200W 24V Solar panel and Wind Turbine Power System !
Product Features:
1. Three input voltage range, suitable for different solar panels.
1). 18V or 36 cells solar panels, Vmp is 18-21V and Voc is 20-24V.
2). 24V or 60 cells solar panels, Vmp is 26-30V and Voc is 34-38V.
3). 36V or 72 cells solar panels, Vmp is 35-39V and Voc is 42-46V.
2. Support for small power wind turbine using grid power.
3. Unique circuit design, choice of import industrial electronic components, higher efficiency, more stable performance.
4. Creative MPPT technology, efficiency more than 99%, faster and more sensitive reaction, more reliable.
5. Parallel type design for DC input and modularization design for inverter, small volume, distributed installation, easy for system configuration, flexible for combination, strong expansibility of system.
6. Adopting high-frequency isolation transformer type, high efficiency, and high security.
7. Perfect electrical protection function.
8. Aluminum alloy housing, not rust, heat-resisting and cold-resistant as well as anti-corrosion.
9. Getting electronic circuit design, appearance design and other core technology patents.
Parameter:
Power

1000W

Solar panels

≥1000W

DC MAX input

1200W

The Voltage of Matched solar panel

Vmp: 18-21V, Voc: 20-24V

Vmp: 26-30V, Voc: 34-38V

Vmp: 35-39V, Voc: 42-46V

DC input range

10.5-28V

20-40V

22-48V

MPPT Voltage

15-23VDC

24-34VDC

26-36VDC

DC MAX current

80A

60A

50A

AC MAX output

1100W

AC output range

120VAC(90-140VAC) or 230VAC(190-260VAC)

Frequency range

50Hz/60Hz

Power Factor

>97.5%

THD

<5%

Phase Shift

<1%

Peak Efficiency/110V

82%

87%

87%

Stable Efficiency /110V

79%

84%

85%

Peak Efficiency/220V

82%

87%

89%

Stable Efficiency/220V

80%

85%

85%

Protection

Islanding; Short-circuit; converse connection; Low Voltage; Over Voltage; Over temperature Protection

Work Temperature

'-25°C-80°C

Work Humidity

0%~90%RH non-condensing

Grade of Waterproof

Indoor design

Show

1 Red and 1 Green

Cooling

Fan

Stand-by Power

2-3W

EMC

EN61000-6-3:2007 EN61000-6-1:2007

Grid Disturbance

EN 50178+EN 62109-1+VDE0126-1-12

Grid Detection

DIN VDE 1026 UL1741

Certificate

CE

Net Weigtht

2.0kgs/pc

Gross Weight

2.7kgs/pc

Inner Box (LxWxH)

31×16.5×5.3cm

Carton (LxWxH)

42×40.5×24.2cm
Product photos show:
1. AC side view
2. DC side view
Several Sockets for Choice
Installation and Connection
A. Installation.
1. Red terminal: Connect DC positive, black terminal: Connect DC negarive.
2. AC socket: Connection to the mains. The AC cord to the inverter 3 foot outlet, then the AC cord to home 3 pin AC outlet.
3. Switch: Properly connected; turn on the switch, the inverter to work.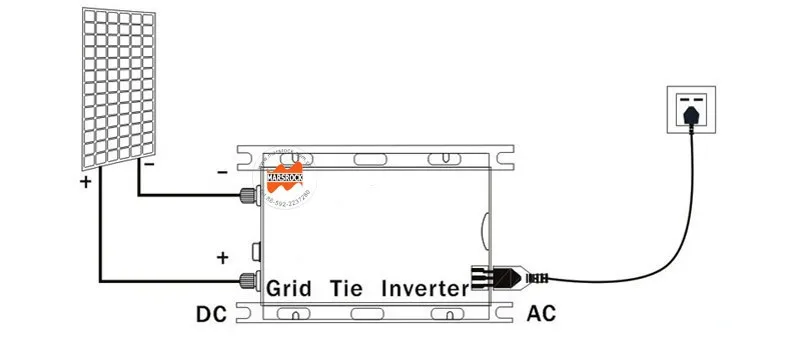 B. Application of Street lights:
Use this micro inverter, do not need to add a fan controller, solar panel controller, battery.
Connection Method 1
This connection method, wind energy, solar energy can supply to the grid at the same time, the highest efficiency.
C. Stackable connection (The purpose is let small power inverter become high-power inverter.)
In order to achieve higher power use requirements, the use of this product can be stacked, such as: 5 grid inverters 300W of stack used is equal to 1500W, and the number of open stacks (No Quantitative Restrictions).
As a professional manufacturer and exporter of the solar products, we have our own team to develop the solar inverter. In order to meet our clients demands, Automatic wave solderng, Plug-in production line, Assembly lines are set up with experienced technicians, knowledgeable supervisors, skilled workers with full of experience on practice operation in assenbly of electronic products were appointed. Besides, Provision of production process, work instructions, inspection standards, etc. are constituted for each product assembly process.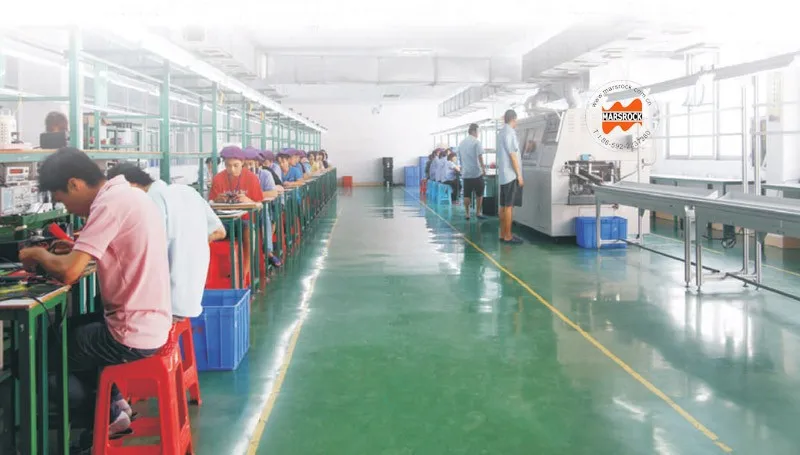 Electronics department is armed with numerous of advanced R&D equipments and manufacturing machines for developing and testing, such as Solar cell IV curve simulation system, Grid simulation system, Automatic testing system of on grid inverter, FLUKE power quality analyzer, Digital electronic bridge, Oscilloscope of imitation and frequency variation power supply, load box, Frequency meter, Electric parameter instrument, etc.
Moreover, with a group of adept and experienced R&D staff, we are appreciated to provide top quality and excellent performance solar inverter and related products for you. And we also can offer personalized services, tailor-made sevices for you.
Welcom to keep in touch with your any questions about our solar products.
Certificates:
CE, FCC, RoHS certificates.
Shipping Ways
As an experienced supplier of solar products for more than 8 years, we know better that which express is the best one to ship your country. This will help you clear the customs successfully and get the parcel faster.
About Us
As a professional supplier of grid tie pure sine wave solar inverter for more than 7 years, we have confidency and ability to provide top quality products to our customers and make sure the products can arrived your hand successfully and smoothly.
In order to provide more choice of our customers, we also promote pure sine wave inverter with charger function and city electricity complementary pure sine wave inverter. If you are interested in them, please browse our website.
If your order amount more than $100,000 per time, we will consider to accept OA, LC, DP, DA payment ways. But you must obtain a credit rating from Alibaba firstly. Detailed operating, please contact your local financial services centre of Alibaba.